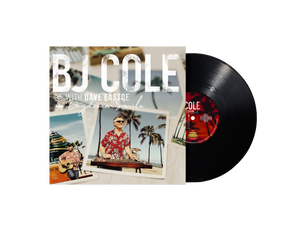 In his 50 year career in music BJ Cole has explored every stylistic nook and cranny in almost every musical genre. So where to find something new to say in his music?  

Well, back to his roots, of course. To the lyricism of Hank Marvin's guitar, Santo & Johnny's 'Sleepwalk' and to the music of the Hawai'ian Islands. These were the sounds that ignited his musical flame. Hawaiian musicians brought steel string guitar madness to the United States; hugely influencing the evolving styles of American popular music: The Blues, Western, Cowboy and Country. This was where his love for the distinctive sound and versatility of the Steel Guitar, Hawai'ian and otherwise, was born.

He breaks new ground with good friend Dave Eastoe, a fine musician, found in his sojourns in the Hawai'ian Islands,  a place and culture he deeply loved, and where he learned to play the Hawai'ian Slack Key guitar style like a native. The connection and musical chemistry between them turned out to be  serendipitous and writing together was intuitive.

'Daydream Smile' may not be totally authentic, but it is passionate and new material. It is a statement of a love for the music and culture of the Hawai'ian Islands.

Pressed on 12" 180g vinyl and contains digital download card.