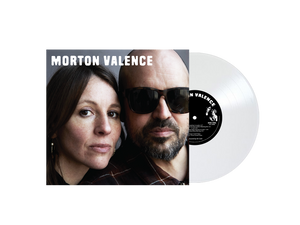 Now on limited edition heavyweight white vinyl!
Morton Valence's eighth, and eponymously titled album, comes to you, courtesy of Cow Pie Recordings, featuring 11 new songs, produced by the legendary BJ Cole.  AND now on heavyweight limited edition white vinyl!  The critics have had their say--
"They drift with phantom ease from spare, intimate, literate alt-country to a nuanced, weighted music bearing the marks of rock'n'roll history..." Classic Rock 8/10
"...slow burning, emotional intensity" Mojo **** "Alluring and seductive." Uncut ****
"It's as consistently pin-sharp as everything else they've done." The Arts Desk 4/5
"... their most accomplished offering to date, and it's to be fervently hoped that "Morton Valence" will be the album that finally translates all the critical acclaim that they've received over the years into solid record sales". Kevin Bryant, syndicated reviewer
"A fantastic album from Morton Valence who continue to do something different and break new ground with each new recording. " Pennyblack Music
"...a consistently interesting album both lyrically and musically. It deserves to be heard widely and to give the duo a much wider audience for their intelligent thought-provoking urban country music." Americana UK 9/10
 "Fuck it, they're magnificent!"  NARC Magazine 5/5
 " A definite contenter for album of the year." Crispy Cowboy, NTS Radio
Robert 'Hacker' Jessett and Anne Gilpin, who form the nucleus of Morton Valence, effortlessly take the country music genre, which is generally considered a uniquely American musical form, and create something uniquely English, without ever compromising their authenticity. " src="blob:https://admin.shopify.com/3dde88a9-e46b-4cc9-9518-e30988fcc1d5" alt="page1image10965312" class="Apple-web-attachment" style="width: 1.2291in; height: 0.0104in; opacity: 1;"> " src="blob:https://admin.shopify.com/337e5b64-7c98-4063-841e-b9f5668bcaf0" alt="page1image10963392" class="Apple-web-attachment" style="width: 1.0729in; height: 0.0104in; opacity: 1;">
The atmosphere that BJ Cole brings to the album is palpable, in both production values, and his unmistakable pedal steel guitar performances, on songs such as the plaintive 'Together Through the Rain', where an estranged Anne and Hacker reunite under the shelter of an umbrella, walking through the rain and trading verses along the way. Or the more upbeat country rock of 'I've Been Watching You/You've Been Watching Me', which is almost as if Richard and Linda Thompson had touched down in some Nashville backbar before heading for the bright lights. And of course, the scintillatingly down-beat opener, and instant urban-country classic; 'Summertime in London', where Hacker reflects on his home city from afar, through simultaneously tear-stained and rose-tinted glasses.
What gives the album its country hallmark, are the narratives in the songs. However, they forego the typical Americana for an altogether more kitchen-sink aesthetic. We see the return of MV alter egos Bob and Veronica in 'Bob and Veronica's Big Move', as they make their way from the big city to what could only be the arcadian blue-collar tranquillity of Hastings, or Skegness perhaps? There's the bewildered small-town homecoming of a wannabe prodigal son in 'A Town Called Home'. And a conversation with 'Jim', a seemingly old-school kind of bloke, with a penchant for midday drinking and late-night city shenanigans.
As well as BJ Cole's steel guitar, there are other collaborations too. 'Like a Face that's Been Starved of a Kiss', co-written with Band of Holy Joy front man, and lyrical visionary Johny Brown. Flamenco guitar genius, Amir John Haddad, sits in on the urban-cowboy ballad, 'Me & My Old Guitar', the skewed violin of Dylan Bates brings something of the vaudeville to songs such as 'It Isn't Easy Being an Angel', Guy Jackson adds his sublime keyboards throughout, and the whole thing is held together by unsung rhythm section heroes Jamie Shaw on drums and Josh De Mita on bass.
As with all Morton Valence albums, along with the shade, there is always some light, in particular the escapist cosmic romp of 'It's a Brand-New Morning', or the wryly observant, 'It Isn't Easy Being an Angel', where the protagonist discovers that he's living in some weird kind of purgatory where even the late Johnny Thunders has quit smoking.
This is an ambitious album, formed through a unique symbiosis of musical characters, which is ready to redefine UK country music, put 'urban country' centre-stage, and should be heard by everyone.